Historien om ordet
Historien om Commissioning starter tilbage dengang, hvor latin var udbredt. Herefter har det været en tur forbi skibs- og flyindustrien, før det blev til den Commissioning vi kender.
Commissioning på dansk
Når "Commissioning" oversættes til dansk, bliver det ofte oversat til "Idriftsættelse", "Ibrugtagning" og "Første idrifttagning". Det er en smule misvisende, da idriftsættelse blot er en af mange ting, som Commissioning processen indeholder.
Ordets oprindelse
Selve ordet "Commissioning" stammer til gengæld fra latin, hvor det startede som ordet committere. Det er en sammensætning af de to latinske ord com (med, sammen) og mittere (give slip, sende afsted, kaste). De to ord sammensat udgjorde committere, som betyder: at forene, forbinde, kombinere og at samle.
Fra committere blev det til commissionem (latin) til commission (gammel fransk) og slutteligt til det engelske commission i midten af 1300 tallet. Den gang startede ordets betydning med at være:
commission (midt 1300)
authority entrusted to someone, delegated authority or power
Herefter gik der et par år, og i slutningen af 1400 tallet, blev betydningen ændret til:
commission (slut 1400)
body of persons charged with authority for the performance of certain special duties
I 1560'erne blev ordets betydning ændret igen, dog stadig med samme det samme underliggende betydning.
commission (1560'erne)
anything entrusted to anyone to perform
Ordets vej til Commissioning
Billedet nedenfor viser, hvordan ordet er blevet til: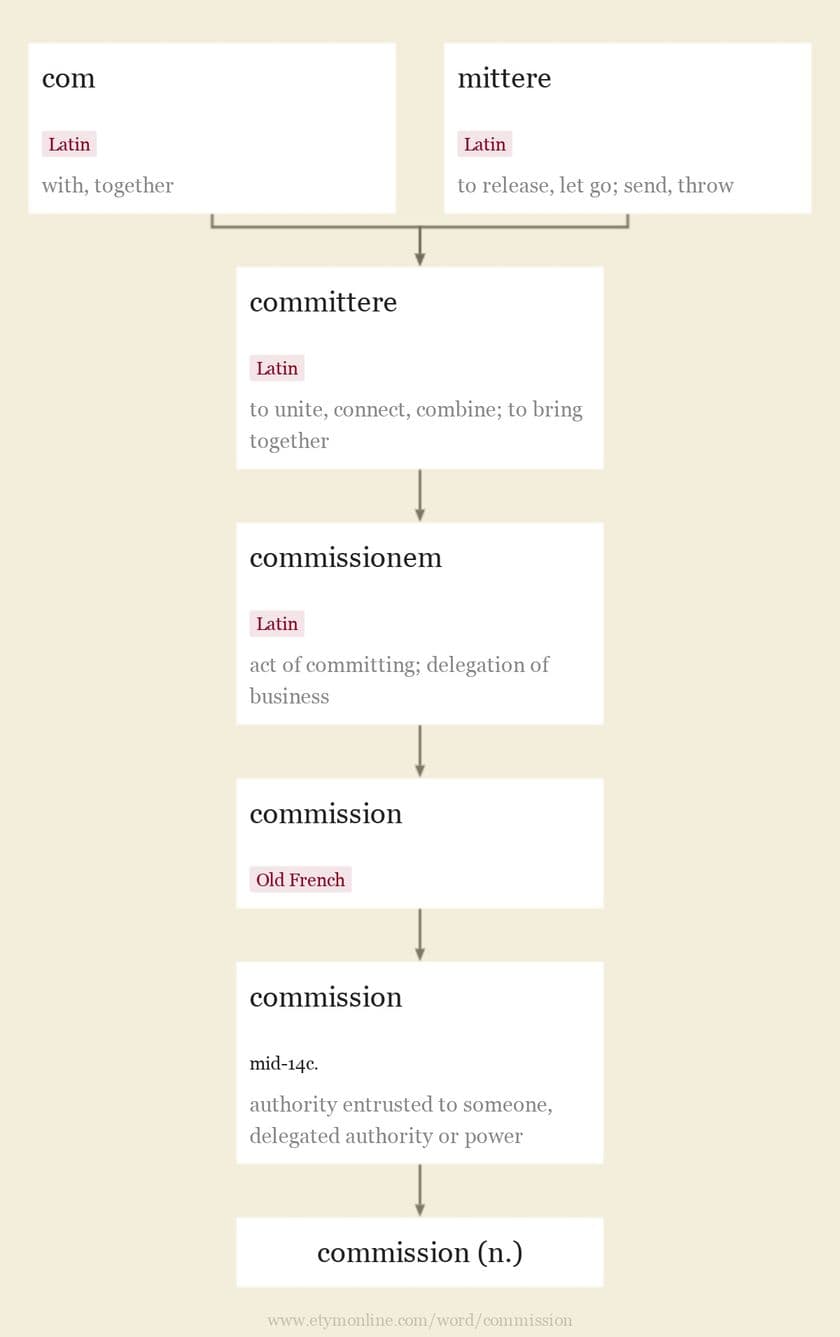 Egenavn og forkortelser
Herudover er ordet mange steder taget ind som et egenavn, da vi har opkaldt vores proces efter det - altså Commissioning med stort C. Det er dog ikke alle, som ønsker at benytte det som egenavn, heriblandt Dansk Standard DS 3090.
Commissioning forkortes ofte som Cx, men jeg har ikke kunne finde oprindelsestidspunktet for dette. Cx benyttes som en direkte erstatning af Commissioning, for eksempel: Cx plan, Cx krav osv.
Metoden med at indsætte et X for at forkorte ord benyttes mange forskellige flere steder. Morsekoder er et kendt eksempel, hvor blandt andet "Transmitting" og "Receiving" bliver forkortet med "TX" og "RX", hvilket efterfølgende også benyttes i dataindustrien som forkortelser. Flyindustrien benytter det også, heriblandt for passagerer, som forkortes "PAX".
---
Brugen af ordet
Googles søgemaskine har indekseret et stort omfang af bøger fra 1500 tallet og til 2008. Det har derfor været muligt at udtrække data over, hvor ofte ordet commissioning er forekommet.
Du kan downloade overblikket i billedformat her: lille format eller stort format.
---
Fra skib til bygning
En Commissioning ceremoni er, når et skib sættes i søen. Men konceptet Commissioning stammer fra skibsindustrien, hvor det referer til test af skibets systemer, før det bliver sat i søen. Kvalitetsprocessen er en essentiel del af at bygge skibe grundet risikoen for fejl, som kan medføre personskader og tab af liv på søen.
Den forøgede risiko ved skibe er også og finde i flyindustrien, hvor Commissioning også har været benyttet i mange år. Fælles for både skibe og fly er, at deres kvalitetsstyringsproces har rødder i "Quality programs" fra 1970'erne, som er den direkte udløber til "Total Quality Management programs" fra 1980'erne.
Commissioning begyndte at blive implementeret på byggerier i løbet af 1970-80'erne, som en energibesparende foranstaltning og fik stor fart i takt med energikrisen i 1970'erne. I løbet af 1980'erne og 1990'erne blev bygnings Commissioning mere almindelig i USA - især i offentlige projekter.
I 1984 blev "ASHRAE HVAC Commissioning Guideline Committee" opstartet. Det var også samme år, at University of Wisconsin-Madison startede med at udbyde Commissioning kurser. I 1988 udgav ASHRAE deres første "HVAC Commissioning Guideline" og i de følgende år, blev der udgivet flere Commissioning vejledninger.
I starten fokuserede Commissioning kun på de mekaniske installationer, men dette har siden ændret sig siden. Byggerier er blevet meget mere komplekse og kravene til dem mere omfangsrige. Den teknologiske udvikling har ligeledes medført, at de mange nye tekniske installationer kan interagere på kryds og tværs. Commissioning favner nu alle aspekter af byggeriet: de mekaniske, elektrotekniske anlæg og bygningens klimaskærm.
Commissioning er i dag blevet en international anerkendt proces, som bruges på nybyggeri såvel som eksisterende byggerier.
---
Kronologisk oplistning
Nedenstående kronologiske oplistning indeholder større milepæle for Commissioning fra hele verdenen. Størstedelen af de udenlandske milepæle stammer fra BCxA hjemmeside.
2020
2019
ASHRAE opdaterer Guideline 0 og udgiver den i version 2019
2018
ASHRAE opdaterer Standard 202 og udgiver den i version 2018
FRI's Ydelsesbeskrivelse for Byggeri og Planlægning revideres til YBL18
ABR89 revideres til ABR18
AB92 revideres til AB18
ABT93 revideres til ABT18
COPILOT Building Commissioning Solutions har allieret sig med REHVA om at udvikle en online cradle-to-grave Commissioning løsning.
2017
CxPlanner: Danmarks første Commissioning software lanceres
NCBC: 25th Anniversary of NCBC to be hosted by BCxA, October 2017, Salt Lake City, Utah
2016
Cx Wiki: Dansk Wikipedia om Commissioning lanceres
12. REHVA World Congress CLIMA 2016 - Commissioning Task Force
NCBC: Hosted by BCxA, May 2016, Indian Wells, California
2015
Cx ERFA: Det danske Cx ERFA netværk opstartes
NCBC: Hosted by BCxA, May 2015, St. Louis, Missouri
2014
DS3090: Dansk Standard DS 3090 udgives
NCBC: Hosted by BCxA, May 2014, Harford Connecticut
2013
ASHRAE opdaterer Guideline 0 og udgiver den i version 2013
ASHRAE publicerer Standard 202: Commissioning Process for Building and Systems
Værdiskabende Byggeproces (Værdibyg) udgiver vejledning i Commissioning
NCBC: Hosted by BCxA, May 2013, Denver, Colorado
2012
NIBS opdaterer Guideline 3 og udgiver den i version 2012
BCxA publishes position paper on Cx Qualifications and Certifications
BCxA elects Executive Director
BCxA publishes position paper on Cx Qualifications and Certifications
ICC Cx Guideline published in July 2012
20th NCBC:
2011
2010
Energy Design Resources publicerer Building Commissioning Guideline
PECI receives $749K Stimulus Grant to fund the development of curriculum to train engineers, building auditors and operators in building science and commissioning.
12th Annual Benner Award presented to Carl Lundstrom, PE, CCP
18th NCBC: Hosted by ComEd
2009
Alabama Department of Economic and Community Affairs, Energy Division publicerer Building Commissioning Guideline
USGBC publishes new LEED 2009 commissioning guidelines and Credential Maintenance for LEED APs
State of Utah DFCM mandates all new buildings be built to LEED Silver and with the Enhanced Commissioning credits and Building Envelope commissioning as mandatory
11th Annual Benner Awards presented to Don Frey
17th NCBC: Hosted by BetterBricks
2008
BCxA publicerer Best practice for Existing Construction
CCC expands RCx Toolkit— Spreadsheet Tools
USGBC restructures LEED®-EB as LEED® for Existing Buildings: Operations & Maintenance, allowing up to 4-points for RCx and 2-points for ongoing commissioning
ComEd launches large-scale commercial building RCx and retrofit initiative
10th Annual Benner Awards presented to Michael English and CCC
16th NCBC: Hosted by Southern California Edison
2007
North Carolina includes commissioning in a bill to increase energy efficiency in state buildings
Massachusetts' LEED® -based energy efficiency standards for state buildings require third-party commissioning for projects greater than 20,000 square feet
CCC publishes RCx Toolkit—Templates and Sample Documents
PECI develops A Retrocommissioning Guide for Owners with funding from the EPA ENERGY STAR® Program
BCxA membership increases more than 30% over 2006 membership
9th Annual Benner Awards presented to Dan Turner and BCxA
15th NCBC: Hosted by ComEd and Illinois Clean Energy Community Foundation
2006
California Commissioning Collaborative publicerer Best practice for New Construction
California Commissioning Collaborative publicerer Best practice for Existing Construction
NIBS publicerer Guideline 3-2006 Building Enclosure Commissioning Process
California utilities roll out large-scale RCx programs
California DGS publishes In-House Commissioning Toolkit for Small Buildings
PIER publishes Specifications Guide for Performance Monitoring Systems
PIER publishes online Functional Testing and Design Guides
ASHRAE announces plans for a certification program for Cx and integrated building design
ASHRAE Sustainability Roadmap sets organization-wide agenda to lead the advancement of sustainable building design and operations
8th Annual Benner Awards presented to Mary Ann Piette and USGBC's LEED® Green Building Rating System™
14th NCBC: Hosted by Pacific Gas & Electric Company
2005
California's Energy Efficiency Standards include acceptance testing requirements for non-residential new construction
ASHRAE publishes Guideline 0-2005: The Commissioning Process
AABC Commissioning Group (ACG) holds 1st Annual Meeting
ASHRAE begins development of Guideline 1.2: The Commissioning Process for Existing HVAC&R Systems
Connecticut Light and Power Company initiates RCx pilot program
NEMI publishes a national study of market potential for new building commissioning
7th Annual Benner Award presented to Paul Tseng and NYSERDA
13th NCBC: Hosted by NYSERDA
2004
CCC incorporates as a non-profit organization
MBCx Program launched by UC/CSU/IOU Partnership
California Governor's Executive Order S-20-04 includes Cx
BCxA launches certification program
LBNL releases The Cost-Effectiveness of Commissioning, a national study of commissioning costs and benefits
USGBC introduces LEED®-EB and includes a prerequisite for retrocommissioning
6th Annual Benner Award presented to Chad Dorgan
12th NCBC: Hosted by Emory University
2003
SDG&E offers RCx program
PG&E publishes Commissioning Test Protocol Library
CCC develops online library of Cx-related research, articles, brochures and white papers
5th Annual Benner Award presented to ASHRAE
11th NCBC: Hosted by Southern California Edison
2002
PIER Program funds development of Functional Testing Guide
AABC publishes the AABC Commissioning Guideline
Energy Design Resources publishes online energy design tools and resources
AABC launches Cx certification program
NYSERDA publishes Cx guideline
FEMP publishes Continuous Commissioning Guidebook for Federal Managers
4th Annual Benner Awards presented to Rick Casault and Emory University
10th NCBC: Hosted by ComEd
2001
CERL produces Commissionpedia CD-ROM
Massachusetts code incorporates aspects of Cx
First International Conference on Enhanced Building Operation held in Austin, TX
CEC considers incorporating performance verification into California Energy Code
USGBC begins work on Existing Building Guideline to include Cx
SDG&E funds RCx pilot study
PIER project investigates persistence of Cx
Systems commissioning is included in Washington State Energy Code
State of Hawaii Energy Code includes requirements for systems commissioning
3rd Annual Benner Award presented to Karl Stum
9th NCBC: Hosted by GPU Energy
2000
PG&E publishes California Commissioning Market Characterizations Study
CCC established as an ad-hoc group to promote Cx in California
PIER High Performance Commercial Building Systems Program includes integrated Cx diagnostics
PG&E begins to incorporate Cx into Savings by Design Program
NYSERDA funds Cx market transformation program
ARTI launches research into automated Cx activities
PG&E pilots program for energy efficiency upgrades and RCx of long-term care facilities
BCxA develops technical training
ASERTTI develops technical training
GPU Energy holds Cx workshops
Xcel Energy launches recommissioning program for customers in Colorado and Minnesota
2nd Annual Benner Award presented to Carl N. Lawson
8th NCBC: Hosted by Sprint World Headquarters Cx Team
1999
Oak Ridge National Laboratory publishes Practical Guide for Commissioning Existing Buildings
State of Tennessee begins New Construction Commissioning Initiative
U.S. GSA conducts a Cx demonstration at its Advanced Workplace Lab
LBNL hosts diagnostician workshop
SMUD offers RCx program
ASERTTI Cx training curriculum is used in seven state workshops
State of Washington adopts Seattle Cx code requirements
ComEd launches Maintenance Operations and Repairs Program (MORES) which includes RCx, and begins offering Cx as one of its Advisory Services
1st Annual Benner Award presented to Charles Dorgan
7th NCBC: Hosted by Portland General Electric
1998
U.S. DOE Sponsors National Strategy for Building Commissioning
BCxA incorporated as a not-for-profit trade association
Energy Star® Benchmarking Tool and Building Label create new opportunities for Cx
Washington State Board of Education recommends matching funds for Cx of K-12 schools
U.S. DOE /FEMP proposes Cx to be art of federal building renovations
U.S. GSA announces Comprehensive Building Commissioning Program
U.S. DOE Rebuild America publishes Cx guide
MasterSpec begins to integrate Cx specifications
NEEA funds Commissioning Public buildings Program
Cx workshop at AIA National Convention
Seattle Energy Code incorporates Cx for HVAC and lighting controls
ACEEE/CEE conduct existing building Cx workshop
NIBS conducts workshop on whole building Cx
U.S. GSA Building Commissioning Guide becomes Interagency Guide for Federal Buildings
Cx session at ASHRAE Winter Meeting draws more than 300 attendees
Portland General Electric offers Retrofit Commissioning Program
Public Works Canada revises and expands its Project Commissioning Manual to define basic and enhanced Cx for various projects types
U.S. DOE produces a film on Cx with Sandia National Labs and holds a simulcast workshop for DOE sites
6th NCBC: Hosted by Florida Design Initiative
1997
U.S. DOE /FEMP publishes Model Commissioning Plan and Guide Specifications
Sprint commissions World Headquarters in Kansas
Sandia National Laboratories issues Cx specification
E Source Tech updates Commissioning Existing Buildings
Cx articles begin to be published in trade press on a regular basis
NEEA conducts Commissioning Baseline and Market Research Study
Oregon Office of Energy's Commissioning Toolkit becomes available online
Federal RCx demonstration projects are conducted in the Northwest
AIA sponsors Cx workshop at Client Connection Conference
5th NCBC: Hosted by Southern California Edison
1996
ASHRAE publishes Guideline 1-1996: The HVAC Commissioning Process
U.S. GSA & FEMP fund development of Model Commissioning Guideline and Specification
EPRI conducts market study of firms providing Cx services
International Measurement & Verification Protocols recommends Cx in all projects (NREL)
U.S. DOE /FEMP conducts Cx workshop for federal agency project managers
NW Commissioning Collaborative holds 2nd conference and publishes provider directory
U.S. GSA & FEMP conduct existing building demonstration in Seattle, WA
State of Tennessee begins existing building Cx program for state buildings
4th NCBC: Hosted by Florida Design Initiative
1995
ENERGY STAR® Building Partnership Program includes Cx
AIA magazine, Architectural Record publishes article on Cx
U.S. EPA & DOE conduct Cx demonstrations of five existing buildings
U.S. GSA publishes Building Commissioning Guide, Version 1
U.S. GSA & Facility Operations Divisions initiates Cx program
Detroit Edison one-day Cx conference draws more than 300 attendees
NW Commissioning Collaborative sponsors regional conference State of Washington requires Cx
APPA publishes Cx manual and provides training
3rd NCBC: Hosted by Energy Center of Wisconsin
1994
LADWP launches Cx program
Public Works Canada publishes Project Commissioning Manual
Executive Order 12902 requires a Cx program for federal agencies
Florida Design Initiative introduces eDesign Online to compliment Florida Department of Management Services Cx program
U.S. Army Corps of Engineers develops HVAC Commissioning Procedures
ASHRAE Cx series offered via Professional Development Seminars
ACEEE Summer Study devotes a full panel of presentations to Cx and O&M
LBNL focus on building performance assurance through metrics, Cx and operations
SMUD offers incentives to owners who develop Cx plans
SCE initiates the Cx Research Study Demonstration
2nd NCBC: Hosted by Florida Design Initiative
1993
Pacific Energy Center offers its first course on Cx
NEBB develops Cx provider certification program
National Grid (formerly NEES) offers a Cx guide to commercial customers
U.S. Army Corps of Engineers develops Cx guide specification
University of Washington begins to require Cx and develops Cx guide specification
1st NCBC: Hosted by SMUD
1992
BPA publishes Building Commissioning Guidelines, Second Edition
BPA and PECI convene Cx Roundtables
U.S. GSA develops HVAC Functional Inspection & Testing Guide
1991
Electric utilities begin to require Cx on energy installations
BPA tests Commissioning Guideline on Energy Edge building in Portland, OR
1989
ASHRAE national convention includes Cx presentation
Montgomery County, Maryland institutes Cx program
University of Michigan establishes facilities evaluation and Cx group
First edition of BPA 's Building Commissioning Guidelines published
1988
Texas LoanStar Program applies monitoring and existing building Cx
ASHRAE publishes HVAC Commissioning Guideline
1984
ASHRAE HVAC Commissioning Guideline Committee formed
1981
Disney includes Cx in the design, construction and start-up of Expo Center
1977
Public Works Canada begins to use Cx in its project delivery system